You have a lot of sights to choose from in our beautiful region of France.
By car:
Just five minutes' drive away is Castillon la Bataille where, in 1453, the last major battle of the Hundred Years War was fought. There is a spectacular floodlit re-enactment ever summer (late July and early August) when around 800 participants, including 50 cavalry, spread across 16 acres and use amazing stunts and pyrotechnics to provide daily shows. In between fight re-enactments, you can enjoy scenes of 15th century life and dine at the Medieval Inn. After the two-week festival, Castillon la Bataille returns to being a peaceful little town with an excellent market each Monday morning.
At Rauzun (10 mins drive) there is an ancient ruined castle and a cave – the Grotte Celestine – where you can don thigh-length boots and miners' hats and walk along an underground river while hearing about its history.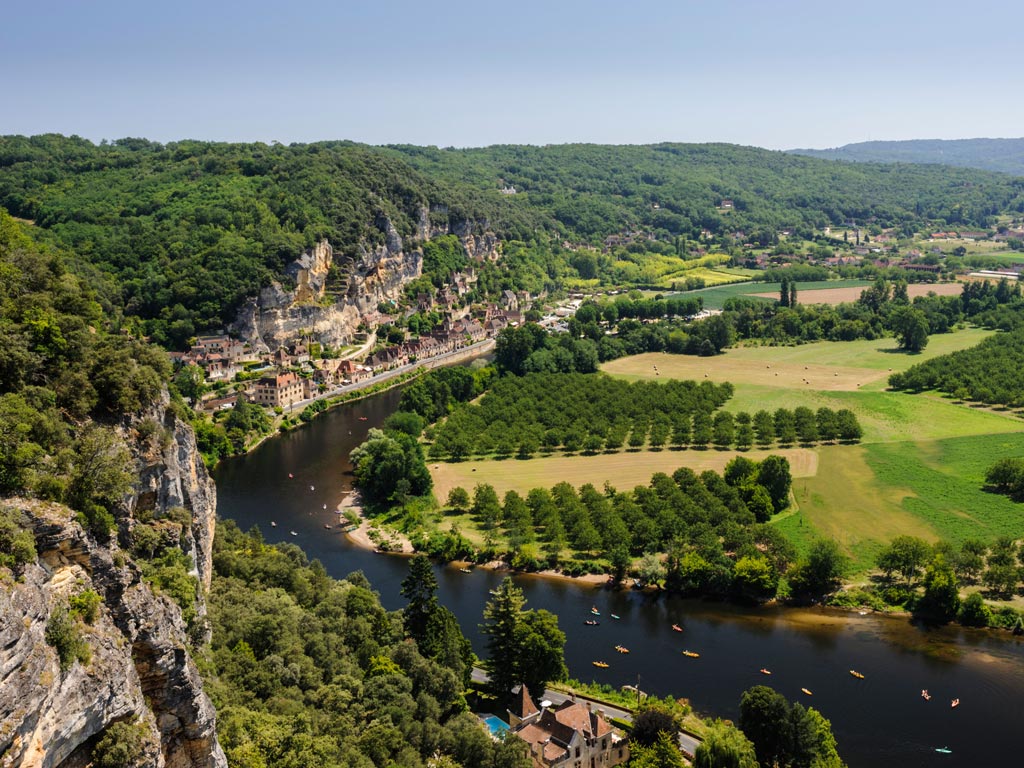 Saint Emilion (15 mins drive) is one of the most famous Bordeaux wine villages and has recently been added to UNESCO's World Heritage List. Sited on the north side of the River Dordogne, this 12th century town consists predominantly of old stone houses with shuttered windows and cobbled streets. Hidden underneath is Europe's largest underground church, a magnificent place hewn out of the soft rock by Benedictine monks in the 9th century. Louis XIV described St. Emilion wines as "nectar of the gods". From the first weekend in May, around 20 local Chateaux open their doors to visitors – and concerts and wine tastings are held throughout the year.
The most popular festivals are the Fete de Printemps (June) and the Harvest (September).
Bordeaux (30 mins drive) is an elegant city, rich in history and culture. It has stunning architecture and a range of boutiques, cafes and restaurants to suite all tastes and pockets. The Cathedral of St Andrew is a truly fantastic sight, both inside and out. And the number and quality of Bordeaux's golf courses has made it France's leading region for golfers.
Bordeaux hosts many festivals and celebrations during the year, too many to list in full here.
A sample:
Les Portes Ouvertes dans les Chateaux (late March/early April)
Fete due Vin (three days in late June, with street performers, concerts and wine tastings)
24 Heures du Swing (a jazz festival during the first weekend of July)
Further afield by car: Ninety minutes' drive will take you to Arcachon and France's Atlantic coast, gateway to 250km of sandy beaches. The Bay of Arcachon is a small "inland sea", open to the Atlantic and backed by pine forests, with picturesque villages. Along the coast you can visit the Dune du Pyla, Europe's largest sand dune, or try your hand at a wide range of watersports at Pyla-sur-Mer, or relax on the quiet Plage du Nice. There are many others to discover – and children will relish Aqualand with its fast water rides and thrills and spills.
A two-hour drive in another direction will take you to Prehistoparc and a network of natural caves. The park recreates scenes of daily life of the earliest Neanderthal hunters and provides a themed trail through a reconstruction of a prehistoric settlement discovered in Siberia.
We are on the border of the Dordogne region, famous for its wine, truffles, foie gras, historic towns and beautiful scenery. It is home to some of the world's oldest cave paintings. A two-hour drive will take you to Les Eyzies where you can see spectacular caverns and visit the National Prehistoric Museum. Or visit the 55,000-year-old home of cave dwellers at Roque-St-Christophe. Or tour the geological formations at Grand Roc.
On foot: If you feel like a day of exploration without the car, then we have plenty of possibilities to offer you. Just 10 minutes or so stroll from Gironde Chambres is the beautiful Dordogne river where you can sit and picnic, watch passing boats, or even do some fishing in season. A licence can be bought from the local 'Presse'. To the rear of our property is a lovely lake – Lac de Caddie – where you can enjoy water sports or visit a restaurant and bar. It is only a 15-minute walk so perfect for an evening out.
Golf courses: There are six within easy distance in the Gironde: Medoc, Lacanau, Gujan Mestras, Pessac, Bordeaux Cameyrac and Bordeaux Lac.
You may find these links helpful for planning your holiday in our part of France: